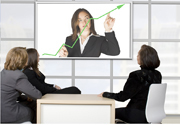 Kaizen's VIRTUAL CLASS - Online live E-Learning helps students to attend the Training from their choice of place. The courses are scheduled according to the convenience of the students from time to time. Students will have direct online interaction with the Faculty.

Course Ware
Virtual Class online students receive an electronic version of the complete courseware containing the most current version of the content.
Archives
With Online Archives, students can listen to archived classroom recordings. Archived recordings are easily accessible through the student's online Learning Plan and are available round the clock

Support
Our support resources are a valuable extension of our reinforcement tools. Kaizen provides personal attention to every learner.

Help Desk
Help Desk support is available to assist Online Virtual Class students facing any technical difficulties to ensure that their online learning is running smoothly and as per their schedule.
Technical Requirements
High Speed Internet
Computer Laptop/Desktop with headphones and Microphones
Telephone