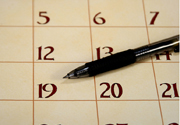 Kaizen Technologies Inc. creates schedules to accomodate the needs and convenience of the candidates from various walks of life.
Kaizen schedules courses on the Weekends to meet the needs of the individuals wanting to upgrade their skills while they are currently employed. These flexible weekend courses allow individuals to scale higher on corporate ladder.
Kaizen schedules classes for students and corporate bodies on the weekdays. These classes are for aspiring students and individuals in pursuit for a career in Information Technology. The course calendar is designed with utmost care by giving importance to the needs and requirements of the students.