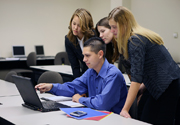 Kaizen strives for quality instruction in a classroom setting. We offer courses at regular intervals. Corporate bodies and individuals can choose from the wide range of courses at our learning centers. We provide Desk support to our students and students also have an online My Class course.

The classroom experience has become more enriching, dynamic, and valuable for our students. Our Instructor Led Training comprises- lectures and demonstrations, followed by student practice through hands-on exercises – These have been enhanced by the inclusion of Web-based resources during and after class. Students receive a Books and Handouts for reference. Additionally, a full electronic version of the E-Courseware, is available for a post-class period.

Kaizen continues to provide valuable learning tools that create the finest and most rewarding environment possible for students. An opportunity will be provided as "Open House" to students to observe, audit the class and make the best decision they could.