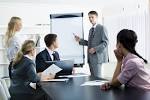 "Excellent employees are not born"- They are developed.
At Kaizen, we understand the requirement of the Companies and customize the Training Programs to meet the needs of the Industry or Corporate. We design the curriculum that meets the requirements of the Clients to develop them as excellent employee by enhancing their skills. Kaizen Technologies specialize in helping companies organize and adopt new technologies to improve competitiveness.
Kaizen training and technical assistance:
On-site training at your company
At our State of Art Corporate Training Center in Edison, NJ,
Training through interactive computer/video or on the Internet.
Kaizen training can be customized into any of the following:
Focused seminar format.
An upgrade of employees' basic skills in Computers.
Training to high-demand areas of

computer-programming,
Project Management,
Software quality Assurance (Computer System Validation)
Kaizen's instructors and advisors are certified and have academic As well as real-world career experiences. They bring expertise in business and marketing, trades and industry, health care, and service occupations and technical fields.