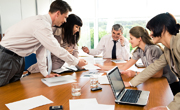 In the simplest terms, a project is a unique temporary endeavor, with a set beginning and a set end. Using this broad definition, projects exist in every industry worldwide, from automotive and construction, to aerospace and software. It is easy to see how project managers — those professionals who manage projects consistently with time-tested processes — are a vital part of the global workforce. Project managers contribute to quality, efficiency and business results across the enterprise.
Kaizen Technologies, Inc has been reviewed and approved as a provider of project management training by the Project Management Institute (PMI®).
PMI is a registered mark of the Project Management Institute,Inc.